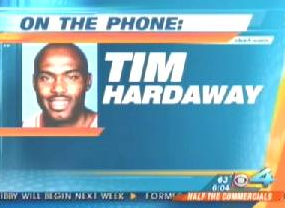 Former NBA player Tim Hardaway gave a telephone interview responding to NBA player John Amaechi coming out of the closet. The comments were made on the Dan Le Batard show on 790 The Ticket Wednesday afternoon in Florida.
"First of all I wouldn't want him on my team," said Hardaway. "Second of all, if he was on my team I would really distance myself from him because I don't think that's right and I don't think he should be in the locker room when we're in the locker room."

Le Batard took Hardaway to task, pointing out that his comments were 'flatly homophobic' and bigoted, but that only seemed to stir up the former point guard.

"Well, you know, I hate gay people," Hardaway said in response to Le Batard. "I let it be known I don't like gay people. I don't like to be around gay people. I'm homophobic. It shouldn't be in the world, in the United States, I don't like it."
Hear the audio of that interview.